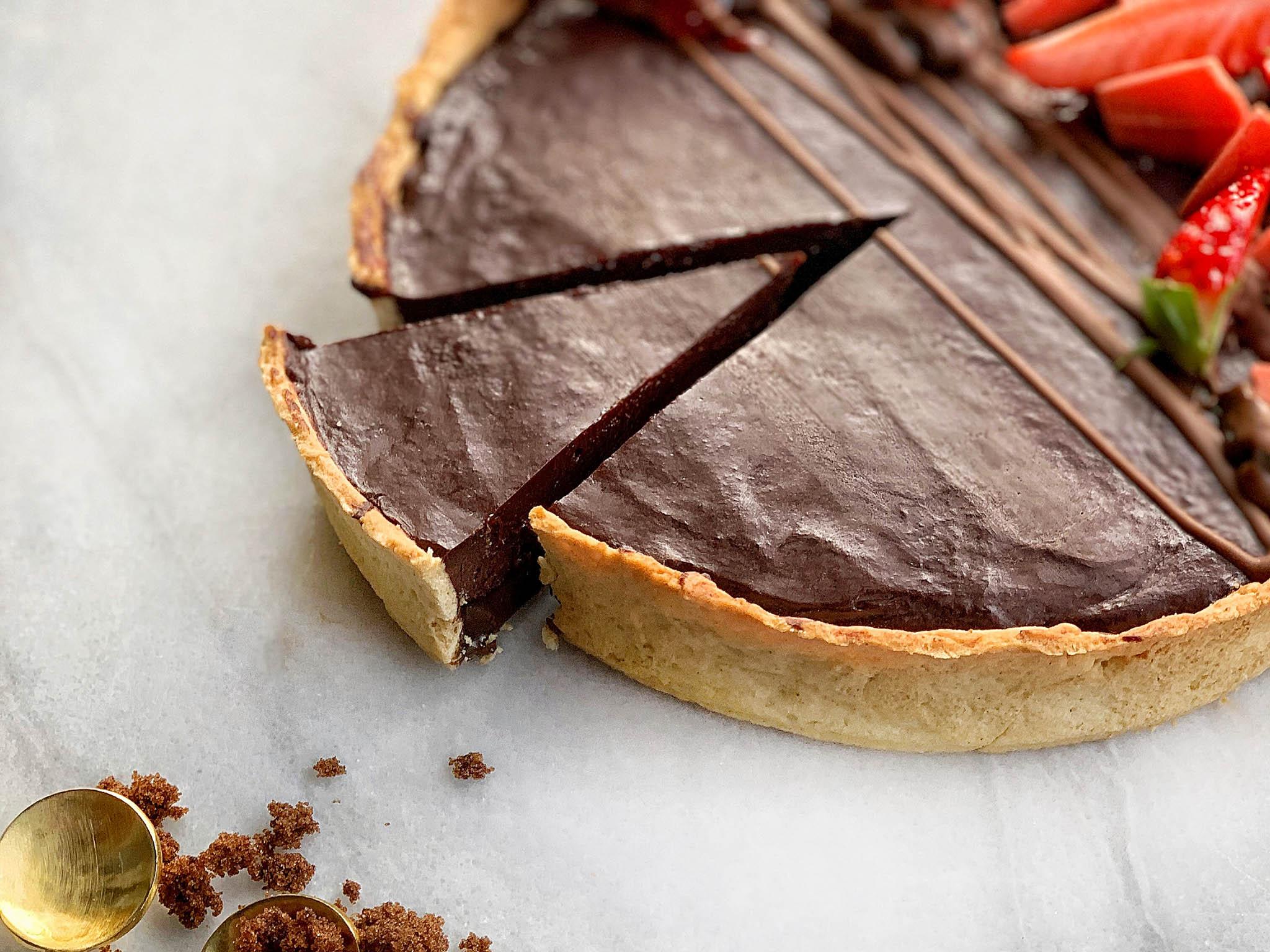 Antony Amourdoux's muscovado millionaire shortbread tart
Shortcrust pastry
120g flour 
½ tsp baking powder 
60g unsalted butter
15g brown granulated sugar
30g coconut milk 
Join Independent Minds
For exclusive articles, events and an advertising-free read for just
£5.99
€6.99
$9.99
a month
Get the best of The Independent
With an Independent Minds subscription for just
£5.99
€6.99
$9.99
a month
Get the best of The Independent
Without the ads – for just
£5.99
€6.99
$9.99
a month
Muscovado salted caramel 
120g unsalted butter 
100g double cream 
150g dark muscovado
A few drops vanilla essence 
A pinch of sea salt 
Dark chocolate ganache
170g dark chocolate chips 
120g whipping cream 
30g unsalted butter
Shortcrust pastry
Pre-heat the oven to 180C. Sieve the flour and baking powder into a large bowl add the sugar and butter. Mix the ingredients with your fingertips until the mixture resembles fine breadcrumbs.
Add the coconut milk and mix to a firm dough. Wrap in cling film and chill while preparing the filling. Once nice and firm, roll this out to fit an 8in pie tin and bake for 15-20 minutes until golden brown. Cool it. 
Muscovado salted caramel: place all the ingredients in the saucepan on a medium heat and warm the mixture until the sugar and butter have completely melted. Let the sauce cool and transfer into a piping bag. Cool the mixture until firm.
Once the mixture is firm, pipe it into the pastry case to form the first layer and return in to the fridge.
Dark chocolate ganache: pour the heavy whipping cream into a microwave safe bowl and heat in the microwave for about 45 seconds-1 minute. Make sure to keep an eye on it so it doesn't bubble over in the microwave.
Pour the warm heavy whipping cream over the chocolate and butter and let it sit for 2-3 minutes. Start whisking slowly in the middle of the bowl and continue whisking in one direction until the mixture is smooth and well combined. Allow to cool for about 10-15 minutes and pour it on the cooled caramel. Leave the tart to cool for about 2 hours in the fridge. I finished my tart with strawberries and served it with a light whipped chantilly.
Recipe from @AntonyAmourdoux