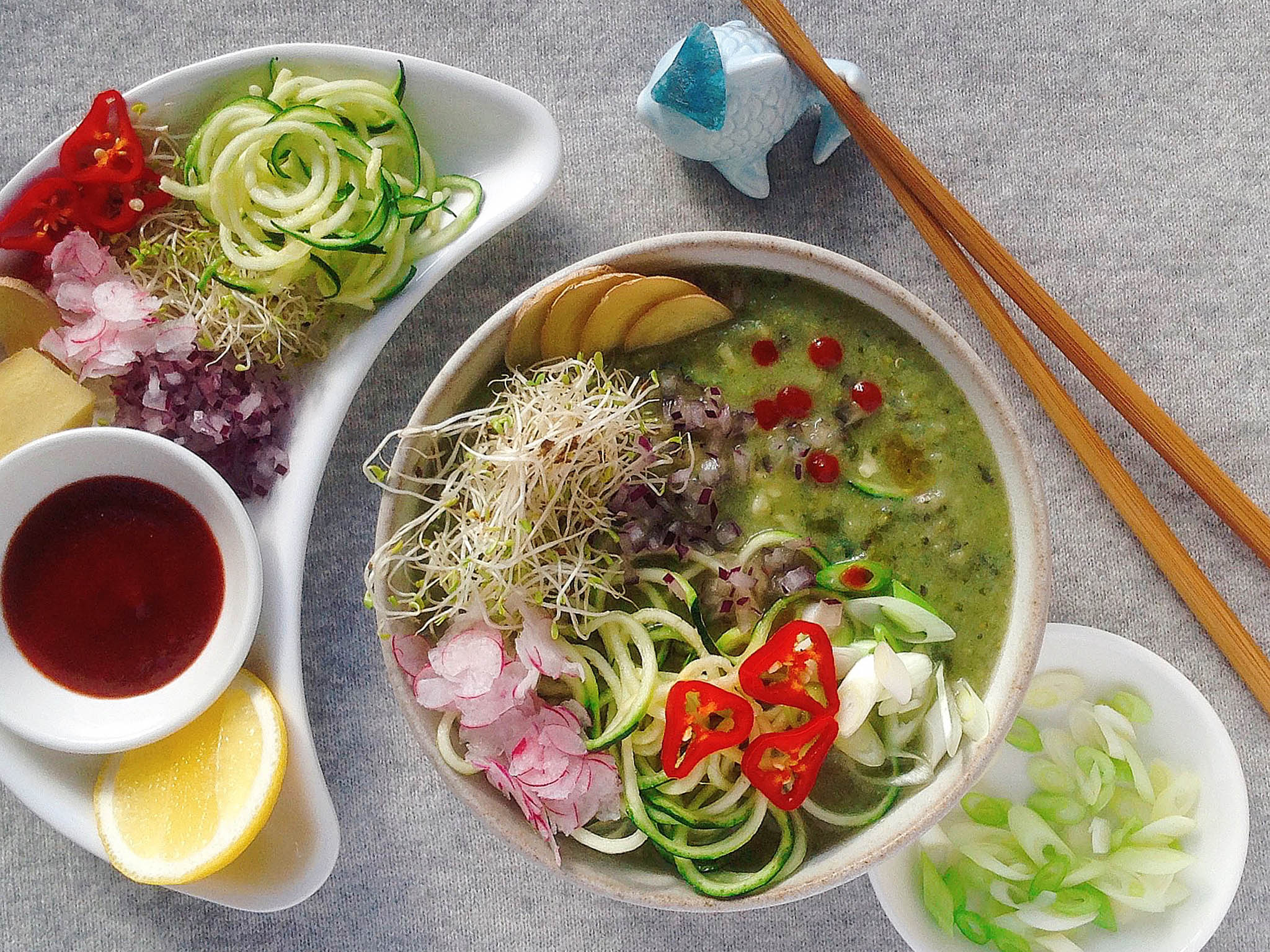 G

reen vegetable soup
This is a wonderful mix of colours, flavours and textures, and with just a little bit of preparation it can be made very quickly. It freezes well so make more than you need and keep the extra in the freezer for an instant pick-me-up.
Serves 4
Join Independent Minds
For exclusive articles, events and an advertising-free read for just
£5.99
€6.99
$9.99
a month
Get the best of The Independent
With an Independent Minds subscription for just
£5.99
€6.99
$9.99
a month
Get the best of The Independent
Without the ads – for just
£5.99
€6.99
$9.99
a month
For the soup
1 litre vegetable stock
1 lemongrass stalk
5-6 Sichuan peppercorns
1 large leek
½ tbsp coconut oil
1 large onion, finely diced
3 fat garlic cloves, minced
1 thumb-sized piece ginger, peeled and minced
2 celery stalks, finely diced
2 medium courgettes, washed and diced
100g shelled edamame beans
2 large handfuls of spinach
1 teaspoon freshly grated nutmeg
Himalayan pink salt
Freshly ground black pepper
A selection of the following toppings
Spiralised courgette
Finely diced red onion
Shaved breakfast radish
Sliced spring onions
Sliced red chilli
Finely sliced ginger
Alfalfa sprouts or beansprouts
Sriracha or your favourite hot sauce
Toasted sesame oil
Pour the stock into a large saucepan and heat until boiling, reduce to a simmer.
Peel away the tough outer layers of the lemongrass and remove the top and base of the stem, you should be left with the pale lower section only. Gently hit the stem with the blunt side of a knife a few times to bruise it and release the flavour. Put the lemongrass and Sichuan peppercorns into the simmering water.
Split the leek in half lengthwise and finely slice. Tip the pieces into a colander and rinse thoroughly under cold water. Leave to drain. Heat the oil in a medium saucepan, add the onion, garlic and ginger and saute until soft. Tip in the leek, celery and courgettes and cook for a further 2-3 minutes.
Remove the lemongrass and peppercorns from the simmering water and discard. Add the cooked vegetables to the pan, bring back to the boil and simmer for 20 minutes.
Tip in the edamame beans and continue cooking for 2-3 minutes. Add the spinach and freshly ground nutmeg, stir until the spinach has wilted.
Blend with a stick blender to a chunky consistency and add salt and freshly ground black pepper to taste. Serve in warmed bowls with individual plates containing a selection of toppings for each guest.
Follow Beverley Hicks @littlechelseakitchen