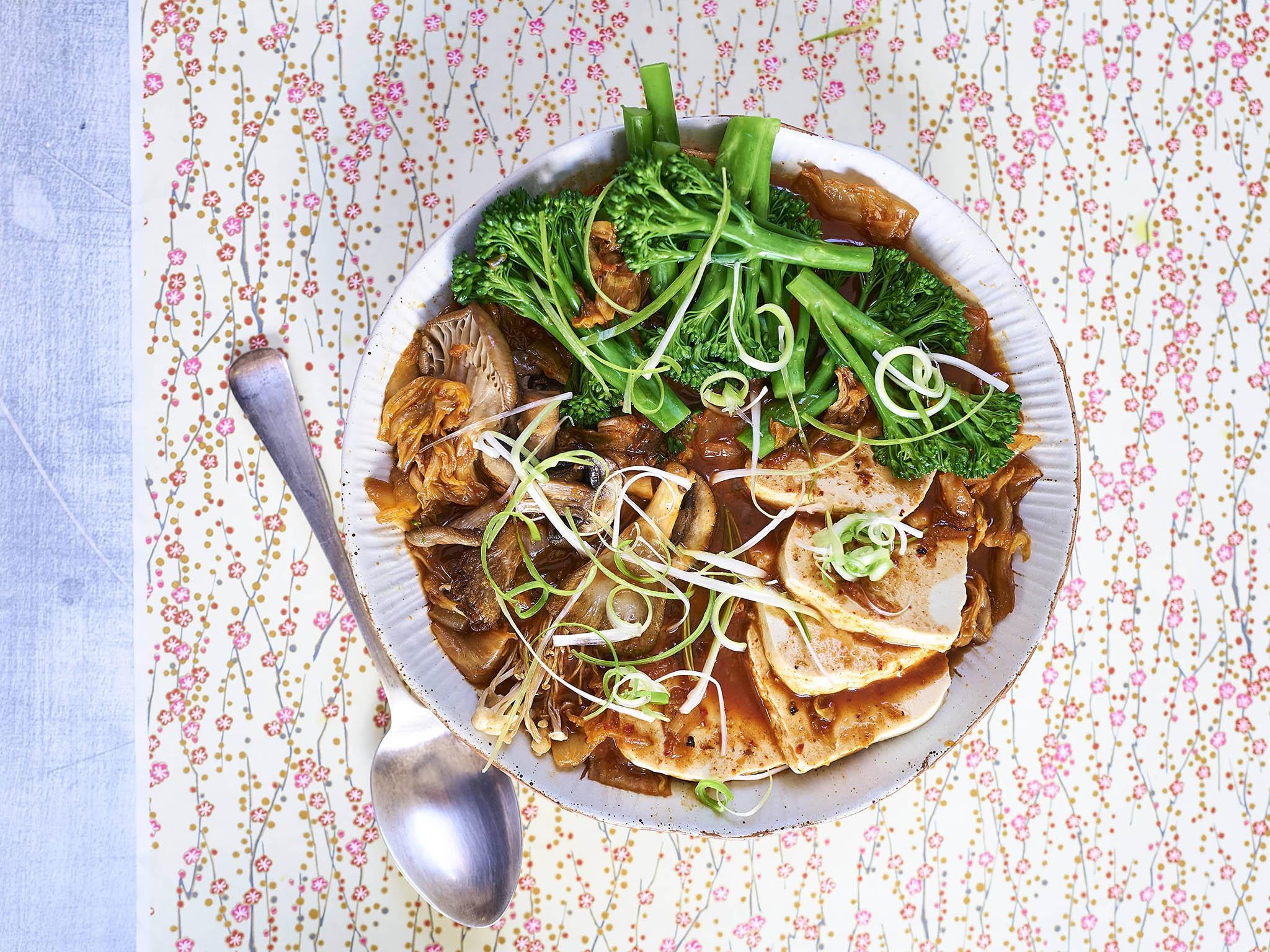 Tofu, tenderstem and kimchi stew
Serves 4
Prep: 20 minutes
Cook: 40-45 minutes 
We'll tell you what's true. You can form your own view.
From
15p
€0.18
$0.18
USD 0.27
a day, more exclusives, analysis and extras.
3 tbsp rapeseed oil 
1 onion, peeled and finely chopped 
1.5cm ginger, grated  
2 garlic cloves, crushed 
300g good-quality kimchi 
1 tbsp gochujang paste
1 tbsp honey 
200g oyster mushrooms, cut into 1cm strips
1l vegetable stock 
400g extra firm tofu, sliced  
250g tenderstem broccoli, halved 
2 spring onions, shredded 
Heat the oil in a casserole dish and when hot, add the onion. Fry for 8 minutes until soft then add the ginger, garlic and kimchi. Fry until the kimchi starts to caramelise, around 8-10 minutes. Then add the gochujang paste and honey and stir to mix. 
Throw the oyster mushrooms into the pan and fry for 3 minutes then add the stock. Bring to a boil, then turn the heat down to a whisper and simmer for 10-12 minutes until it tastes like all the flavours have come together. 
Layer the tofu slices in a fan shape on one side of the pot, place the tenderstem broccoli on the other side and prod both so they're slightly submerged in the liquid.
Put the lid on and cook for another 6 minutes or until the broccoli is tender. Check the seasoning and serve garnished with the spring onions and with bowls of freshly steamed jasmine rice. 
Recipe by tenderstem.co.uk