I'm not surprised that there were failures in vegan week of The Great British Bake Off. Good baking relies on practice, knowing your ingredients and understanding how they behave. Vegan baking is a brave new world because it relies on experimenting with ingredients to replace those that have traditionally formed the backbone of baking: eggs and butter.
Eggs offer the baker so much: they create structure, give moisture and richness, and bind ingredients – so they are hard to replace. You can bind using milled chia or flax seeds, which become gelatinous when added to water and are a good but not a perfect substitute. There are now decent butter and dairy replacements available, so that is much less of an issue.
If you're new to vegan baking, pastry (such as the galette below) is a great place to start. After you have got the hang of pastry, you can go on to master cakes. You have to be willing to make a few mistakes along the way – so Jon (who would have preferred it was kebab week) should take heart. In that respect, failure is the first step to success.
A simple fruit galette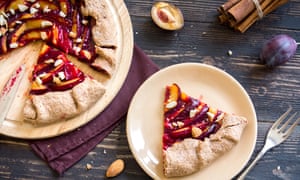 In a bowl, combine 200g plain flour, 100g dairy-free butter, 30g caster sugar and a pinch of salt. Mix with a spoon to create breadcrumbs, then add two tablespoons of cold water and mix again till the dough comes together. Refrigerate for 30 minutes. While the dough is chilling, slice up any fruit you like – firm fruits such as peaches, plums, apples and pears work well. Remove cores and stones and cut into slim wedges.
Heat the oven to 180C/350F/gas mark 4. Put your dough on a piece of greaseproof paper and roll out into a circle, roughly 25cm in diameter. Leaving 4cm around the outside, place the fruit slices on to the pastry in overlapping circles, then fold up the sides of pastry. Sprinkle with half a tablespoon of sugar and place in the oven for 40 minutes, turning halfway through.
This is a universal vegan recipe that you can adapt in many ways. You can add a frangipane base, or some chocolate. Apricots and pistachios would be a lovely combination. You can do almost anything with it!
• More vegan baking recipes can be found in Meera's Guardian Feast column, The New Vegan